Location Tracking- Location tracking allows you to mark a device as mssing via your ESET Web Account and monitors the activity on your device. The software displays the position of the device on a map based on the Wi-Fi networks in range when it comes online. Not only this, but it also allows you to access all the information gathered via ESET Anti-Theft at my.eset.com.
Laptop Activity Control - Laptop Activity Watch allows you to watch thieves via a built-in camera and collects snapshots of the missing laptop's screen. Laptop activity watch saves all recent photos and snapshots to your account at my.eset.com
Intelligent Firewall – ESET Smart Security 6 helps you prevent unauthorised users from accessing your computer remotely and taking control of your data.
Parental Control – an advanced feature in ESET Smart Security 6 that allows blocking of offensive material.
Gamer Mode – streamlines protection during gaming sessions by automatically switching to silent mode to conserve system resources even further.
Anti-Phishing - Prevents fake websites maquerading as trustworthy ones from acquring your personal information.
Small System Footprint – Maintains high performance and extends the lifetime of your computer and saves internet bandwidth with extremely small update packages.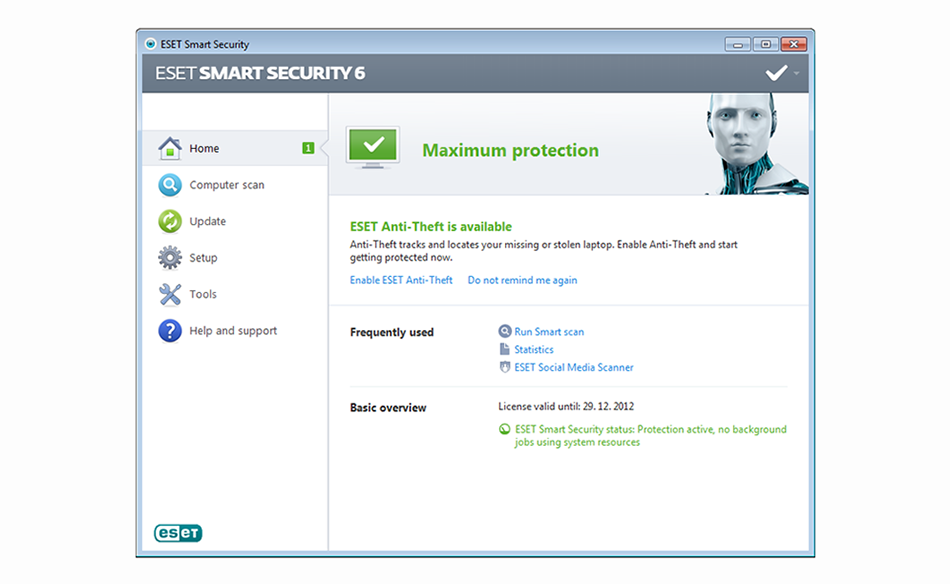 Find out about
the ESET Difference
Engineered around You: Just install and forget or feel free to tweak away
Secure them All!
Whether it's web-browsing, exchanging e-mails, or paying bills online, you can rely on real-time, continual and consistent level of protection from even never-before-seen forms of malware. The way we carry out the fight against malware is multi-layered and backed by over 20 years of innovation of our scanning technology.
It starts by employing a complex of sophisticated detection algorithms, heuristic filtering methods and is supported by a global system of threat monitoring and analysis.
The result: Comprehensive, proactive security you can rely on.
User-centered Layout puts you in perfect control with the dashboard-like look of the "Tools" pane that is now even more intuitive and transparent. Also the most frequently used actions available from all screens.
True Security Customization with intuitive interface and fine-tuning options lets you find the best-fit security posture and keeps you abreast of vital security events and overall security status.
Light Footprint ensures a smooth performance, while the energy saving mode is ideal for laptop users and gamers.
ESET's unique Unilicense system allows you to extend protection to all operating systems running on a single machine - Windows, Mac OS or Linux - at no additional cost!
With Unilicense, multi-license holders can deploy ESET security solutions on operating systems of choice in a mix-and-match fashion to meet all their security needs.
© 1992 - 2011 ESET, spol. s r.o. - All rights reserved. Trademarks used therein are trademarks or registered trademarks of ESET, spol. s r.o. or ESET North America. All other names and brands are registered trademarks of their respective companies.